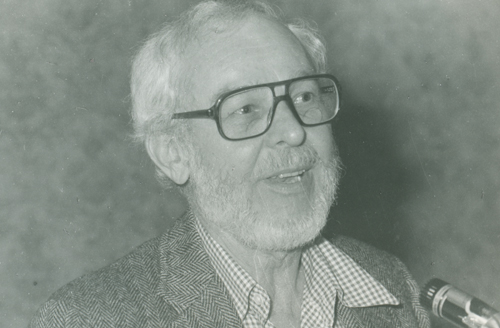 Title
John Whitney at the first West Coast Computer Faire
Date
1977-04
Photographer
Warren, Jim
Biographical Notes
Jim Warren's legal name, as recorded on his birth certificate is "Jim" not "James" [2016-09-01 KJK & SL].
Place of Publication
San Francisco, CA
Dimensions
4 1/2 x 6 1/2 in.
Format
Photographic print
Copyright Holder
Warren, Jim
Description
This is a black and white photograph of John Whitney, a computer film maker, taken at the first West Coast Computer Faire banquet held at the St. Francis Hotel in San Francisco, CA. He is wearing bifocal glasses, a suit and a shirt. He is speaking in front of a microphone. On the verso, "100%" is written in black ink on the upper left corner.
Category
Snapshot; Identification photograph
Credit
Gift of Jim Warren
Lot Number
X2595.2004