Details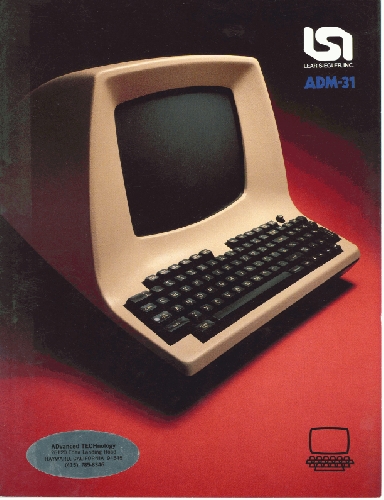 Catalog Number
102646290
Title
The ADM-31. A terminal far too smart to be considered Dumb.
Type
Text
Date
1978-05
Publisher
Lear Siegler, Inc. (LSI)
Place of Publication
U.S.
Extent
4 p.
Dimensions
11 x 8 1/2 in.
Copyright Holder
Lear Siegler, Inc.
Description
This is a four color brochure for the Lear Siegler ADM-31 computer. The front cover has a color photograph of the ADM-31. The company logo is in the upper right corner. On the bottom right corner there is an outline of a computer and keyboard. In the bottom left corner there is a oval shaped silver sticker that has the contact information for "ADvanced TECHnology." The first part is an introduction of the ADM-31, which is a low-cost, high reliability computer. It is completely self contained and comes equipped with keyboard, control logic, character generator, refresh memory, and interface. Included in this section is a color photograph of the display. The following section is about the features. Subsections include You get two pages instead of one; With the ADM-31, your fields are protected; The ADM-312 behaves itself; It's all a function of your imagination; Interfacing made easy; Pick a transmission mode. Any transmission mode; The ADM-31. A truly capable editor; Just as dependable as Dumb; An idea whose time has come. Included in this section is a full-size color photograph of the keyboard. Following is a color photograph of the computer. On the back cover there is a list of technical specifications.
Category
Promotional Material
Subject
promotional materials; I/O: terminal / Teletype; ADM-31 (Computer); Lear Siegler, Inc. (LSI)
Credit
Gift of Thomas J. Buckholtz and Helen T. Buckholtz
Lot Number
X2592.2004