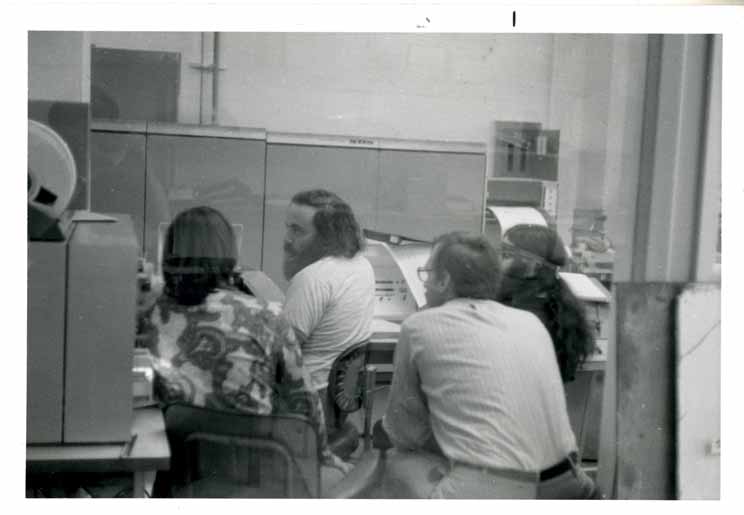 Title
Peter Deutsch (beard) bringing up the Berkeley Computer Corporation operating system on Resource One's SDS-940 computer.
Date
1972
Photographer
Felsenstein, Lee
Place of Publication
San Francisco, California
Description
Peter Deutsch is turned to his left talking to a person with long hair in a paisley shirt. Fred Wright is to Peter Deutsch's right in a headband. There is a fourth man seated behind them in a striped collared shirt and glasses who is looking at Peter Deutsch.
Category
Identification photograph
Collection Title
Lee Felsenstein Collection
Credit
Gift of Lee Felsenstein
Lot Number
X6014.2011
Related Records
| | |
| --- | --- |
| 102702646 | Adam Osborne and Lee Felsenstein in Japan |
| 102702620 | Community Memory group photograph with terminal |
| 102702613 | Community Memory group shot |
| 102702660 | Community Memory terminal with user |
| 102702650 | Community Memory, Lee Felsenstein. |
| 102702635 | Fred Wright (left), unknown man (center) and Lee Felsenstein (right), Resource One |
| 102702630 | Fred Wright repairs a core memory unit on the Resource One SDS-940 |
| 102702622 | Golemics Inc. photograph |
| 102702617 | Gordon French speaking at the Homebrew Computer Club meeting |
| 102702618 | Homebrew Computer Club meeting photograph |
| 102702619 | Homebrew Computer Club meeting photograph |
| 102702636 | Homebrew Computer Club newletter cover, Issue number 2 |
| 102702621 | Lee Felsenstein - Sol User's Society photograph |
| 102702651 | Lee Felsenstein kneeling |
| 102702643 | Lee Felsenstein seated at Micro Expander |
| 102702652 | Lee Felsenstein seated in optometry lab at UC Berkeley with keratometer |
| 102702654 | Lee Felsenstein standing in front of "AUTOCOM" display with host on WCAU-TV "Expression" program |
| 102702653 | Lee Felsenstein standing in optometry lab at UC Berkeley with keratometer |
| 102702645 | Lee Felsenstein with bullhorn he designed |
| 102702626 | Lee Felsenstein, Resource One |
| 102702655 | Lee Felsenstein, Resource One |
| 102702627 | Lee Felsenstein, Resource One |
| 102702628 | Lee Felsenstein, Resource One |
| 102702633 | Lee Felsenstein, Resource One |
| 102702623 | Lee Felsenstin photograph |
| 102702624 | Lee Felsenstin photograph |
| 102702625 | Lee Felsenstin photograph |
| 102702644 | Marty Spergel and Lee Felsenstein, VDM-1 debut, Lawrence Hall of Science |
| 102702639 | Micro Expander photo |
| 102702640 | Micro Expander photo |
| 102702641 | Micro Expander photo |
| 102702642 | Micro Expander photo |
| 102702637 | Micro Expander promotional photo |
| 102702638 | Micro Expander promotional photo |
| 102702629 | Peter Deutsch and Fred Wright bringing up the operating system, Resource One |
| 102702632 | Peter Deutsch and Fred Wright bringing up the operating system, Resource One |
| 102702631 | Peter Deutsch and Fred Wright bringing up the operating system, Resource One |
| 102702648 | Processor Technology Corporation. Bob Marsh, Steve Dompier and Lee Felsenstein talking |
| 102702649 | Processor Technology Corporation. Lee Felsenstein sitting in front of a SOL-20 |
| 102702647 | Processor Technology Corporation. Left to right, Gary Ingram, Bob Marsh and Steve Dompier standing in front of a SOL-20 |