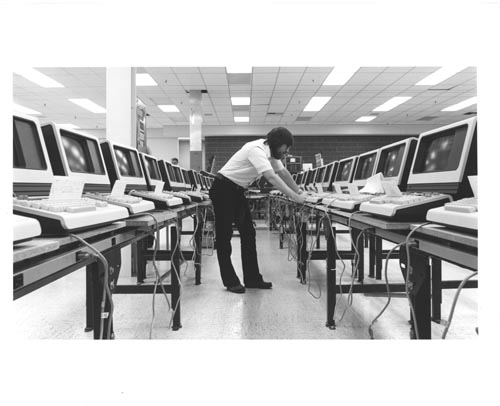 Title
HP - 2640 CRT computer terminal test lab.
Publisher
Hewlett-Packard Company (HP)
Dimensions
overall: 8 in x 10 in
Description
Black and White image of a HP 2640 terminal test lab. A man is standing in front of a long row of computer terminals. To his back is another row of terminals.
Verso attached sheet: " Long lines of HP-2640 CRT computer terminals undergo extensive reliability tests before being shipped to customers from Hewlett-Packard's manufacturing plant in Cupertino, Calif. More than 1,000 units have been delivered since shipments began in January, leading to formation of a new Terminal Products Division to direct operations of the HP-2640 and future computer terminal products. Here technican Robert Melanson verifies a test progrtam. The microprocessor-controlled HP-2640 is being used in a wide range of applications in industry, business and eduction with a strong trend toward on-line data entry and order entry applications. Editorial Contact: John F. Kane Hewlett-Packard Company 1501 Page Mill Road Palo Alto, Calif. 95304 (415) 493-1501 ext. 4133"
Category
Identification photograph
Lot Number
X7413.2015