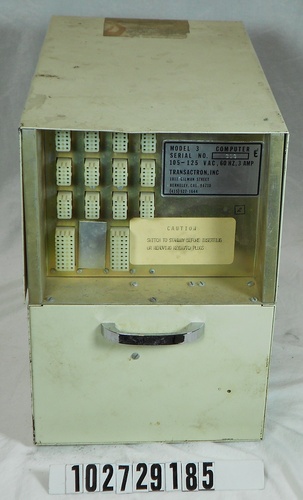 Date
1976 ca.
Manufacturer
Transactron, Inc.
Place Manufactured
Berkeley, Calif.
Identifying Numbers
| | | |
| --- | --- | --- |
| Serial number | 313 | On metal label on back of unit |
Dimensions
overall: 13 1/2 in x 9 1/4 in x 17 1/4 in
Description
The front of unit contains a black rotary nob labeled "KEYBOARD SELECTOR" which has positions 1 through 12 and "ALL", a key selector switch with positions "STANDBY, REPORT, NORMAL, OVERRING, MANAGER", a set of six white push buttons labeled "HOURLY REPORT, DAILY REPORT, PRODUCT MIX, POWER ON, CLEAR DAILY, CLEAR PRODUCT MIX", and a clear plastic filter gage with a small white ball inside and "SERVICE" printed in red. Just above the handle is a black slot of unknown function.
The rear of the unit has three rows of small molex connectors above two large molex connectors.
A white adhesive label on this rear panel reads "CAUTION SWITCH TO STANDBY BEFORE INSERTING OR REMOVING KEYBOARD PLUGS".
Category
Component/other
Credit
Gift of Robert (Tim) Coslet
Lot Number
X4944.2009