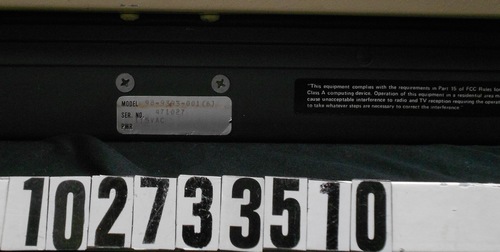 Title
Datapoint disk drive
Date
April 1981 (warrantee sticker on back)
Manufacturer
Datapoint Corp.
Identifying Numbers
| | | |
| --- | --- | --- |
| Model number | 98-9393-001(6) | Silver foil label center rear. |
| Serial number | 471027 | Silver foil label center rear. |
Dimensions
overall: 37 in x 21 1/2 in x 36 in
Description
Object is a disk drive cabinet for a removable disk pack. The read/write head assembly is projecting into the disk area, which it should not do. Much of the mechanism that should be in the bottom of the cabinet is missing (no motor, no air pump, no electronics). Attached to the bottom is a long, heavily-shielded ribbon cable and a braided ground strap. Two brackets, a plastic filler and a screw that were loose inside have been bagged and attached.
Category
Memory & storage/disk