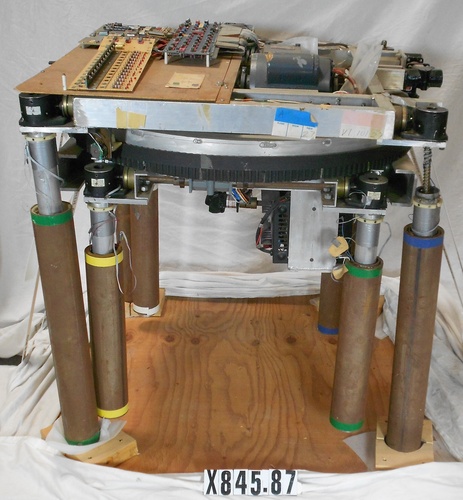 Date
ca. 1983
Manufacturer
Robotic Systems International Ltd.
Description
This record contains one "Spider" robot. There does not seem to be any indication that it is made by IBM (?). The robot is composed of many parts: gear boxes, two homemade circuit boards with integrated circuits, wheels, mechanical legs (8 in total), heat sinks, motors, clutches, labels with various information, cables and connectors, and various buttons and switches. It is square in shape, with a wheel in the middle section, and four legs on the outer corners. Under the wheel there is another square platform with four legs on the inner corners. One of the circuit boards is made by Intel, and is labeled as MCS-80 system design kit (1975).
Text from Smart Machines exhibit

The Spider, 1985
Will robots obey Asimov's three laws of robotics
or will they tum against mankind as in the film
Runaway? This Spider is one of twenty-sIx bum
for the 111m -- half of them plastic models which
destroy themselves in the movie. The Spider,
designed by Al Robinson, is radio-controlled, end
hes only six legs.
Gift of Robotic Systems International,
ltd., British Columbia, Canada
Photo Steve Nelson/Fay Photo
Category
Robot
Credit
Gift of Robotic Systems International Ltd.
Lot Number
X845.87