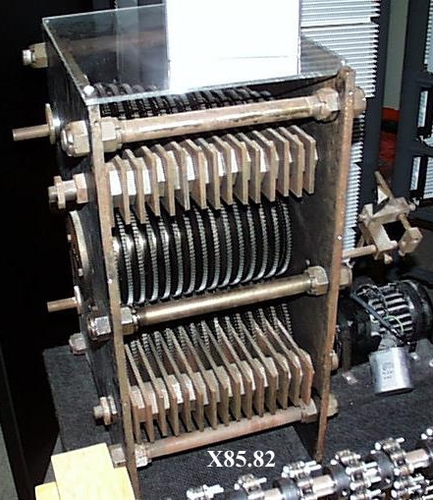 Title
Photoelectric Number Sieve Machine ("Gear Machine")
Date
1932
Manufacturer
D. H. Lehmer / Robert Canepa
Place Manufactured
U.S.
Identifying Numbers
| | |
| --- | --- |
| model number | Number Sieve |
| serial number | 1 (of 1) |
Dimensions
overall:
Description
This gear number sieve was constructed to solve number theory problems such as factoring and determining if a number is prime. The machine also had a photo detector and powerful amplifier which was not included in the gift. Photocopy of Lehmer's paper "Hunting Big Game In the Theory of Numbers" included in Object File. -- JAC 9/24/2001 Two copies of "D. H. Lehmer's Work on Factorization" compiled by Wayne Stahnke, as well as a copy of the journal on CD, were delivered to the museum by Ed Thelan. All can be found in the Object File. -- JAC 11/5/2001 Alternative label copy: Sieve, 1926 This device is a replica of a 1926 prime number "sieve" invented by Berkeley mathematics professor Derrick Lehmer. Using only commonly-available parts, the original 19-chain machine was capable of performing 3000 factoring tests per minute. It factored the number 9999000099990001 into its co-factors (1676321 x 5964848081) in about two hours.
Category
Calculator: electromechanical
Credit
Gift of D. H. Lehmer
Lot Number
X85.82