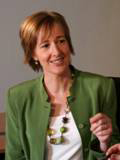 Alison van Diggelen
Host of Fresh Dialogues and KQED Contributor
Host of Fresh Dialogues and KQED Contributor
Alison van Diggelen is founder and host of Fresh Dialogues, a Silicon Valley interview series, featuring leaders in the green economy. A former columnist for the San Jose Mercury News, Alison also contributes to KQED Radio and the Huffington Post. Her in-depth interviews and profiles of business leaders have appeared in the Silicon Valley Business Journal and San Jose Magazine. Alison's writing has also appeared in The Financial Times of London, United Parenting Publications and the Glasgow Herald.


After working as an intern with KQED's Forum team and its host Michael Krasny, she decided to focus on her passion – interviewing people – especially those working on a more sustainable energy economy. She founded Fresh Dialogues in 2008 as a venue for her interviews and commentary and has interviewed Tom Friedman, Martin Sheen, Robert Ballard, and Maureen Dowd; as well as many Silicon Valley leaders and cleantech entrepreneurs.

Alison has taught classes and workshops at the University of Edinburgh School of Business, and the Entrepreneurship Club. She has also moderated events for UC Santa Cruz Extension, the Commonwealth Club Silicon Valley and SVForum.

Alison has been an interview guest on KTVU's Mornings on Two, Silicon Valley Business, BBC radio, KGO radio and KBAY radio. In 2001, she was nominated for a Woman of Achievement Award in communication at The Women's Fund of Silicon Valley; and U.S. Congressman, Mike Honda, also honored her with a congressional recognition award. She has been profiled in the San Jose Mercury News, Gentry Magazine and Scene Magazine.

Since 2010, Alison has served on the board of Thursday Morning Dialogue, a community of businesswomen exchanging ideas; and is a member of the National Charity League.

Alison hails from Bonnie Scotland and worked for investment consultants in London and Paris before moving to Silicon Valley in 1994. She has a Bachelor of Science from the University of Paisley and a Master's in Land Economy from the University of Cambridge.