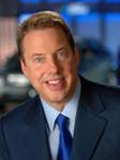 Bill Ford
As Executive Chairman of Ford Motor Company, William Clay Ford, Jr. is leading the company which put the world on wheels into the 21st century. "The ongoing success of Ford Motor Company is my life's work," he says. "We want to have an even greater impact in our next 100 years than we did in our first 100."

Mr. Ford joined the Board of Directors in 1988 and has been its chairman since January 1999. He serves as chairman of the board's Finance Committee and as a member of the Sustainability Committee. He also served as chief executive officer of the company from October 2001 to September 2006, when he was named executive chairman.

As CEO, Mr. Ford improved quality, lowered costs and delivered exciting new products. During his time in that position he took the company from a $5.5 billion loss in 2001 to three straight years of profitability. Through the years, his vision for the company has remained unchanged. "I want us to be a company that makes a difference in people's lives; one that delights its customers, rewards its shareholders and makes the world a better place," he says.

A lifelong environmentalist, Mr. Ford is committed to increasing shareholder value by developing products that please customers and benefit society. Under his leadership, in 2000 Ford Motor Company published its first corporate citizenship report outlining the economic, environmental and social impact of company products and operations around the world. In 2004, the company completed the world's largest brownfield reclamation project, the restoration of its Ford Rouge Center in metropolitan Detroit. Mr. Ford also championed the Ford Escape Hybrid, the world's first hybrid-electric sport utility vehicle, which was named North American Truck of the Year in 2005. "We want to be green, global and high-tech," he says. "We are using our global resources to produce innovative technology for safer, cleaner, more fuel-efficient vehicles."

Ford Motor Company's current vehicle line-up has received widespread recognition for its unsurpassed quality and safety and innovative fuel-saving technologies such as six-speed transmissions and EcoBoost direct-injection turbocharged engines. In 2010 the company also launched the first of a series of five advanced new electric- and hybrid-powered vehicles that it will bring to market over a three-year period. Looking further into the future of transportation, the company recently doubled its investment in wirelessly connected intelligent vehicles, also known as vehicle-to-vehicle communications. In 2011 the company formed a task force to explore this technology, which has the potential to increase safety and reduce traffic congestion, and became the first automaker to build prototype vehicles for demonstrations across the U.S.

Mr. Ford's charitable, volunteer and business efforts are highlighted by his commitment to the city of Detroit. As vice chairman of the Detroit Lions professional football team, Mr. Ford led efforts to build a new, environmentally friendly stadium in Detroit that was the site of Super Bowl XL. Through Detroit Lions Charities, he helped develop the Detroit Police Athletic League youth football program into one of the largest in the country. Mr. Ford is Chairman of the Board of the Detroit Economic Club, a member of the Board of Trustees of both Henry Ford Health System and The Henry Ford, member of the Board of Directors of eBay Inc., and Chairman of the New Michigan Initiative of Business Leaders for Michigan. He also is a founding partner of Fontinalis Partners, LLC, a Michigan-based investment firm that acts as a strategic operating partner to transportation infrastructure technology companies around the world.

Mr. Ford was born in Detroit in 1957. He is an avid fly fisherman and car enthusiast, enjoys playing hockey and tennis, and is a black belt in the martial art of Tae Kwon Do. He holds a bachelor of arts degree from Princeton University, a master of science degree in management from Massachusetts Institute of Technology (MIT), and an honorary doctor of laws degree from the University of Michigan.