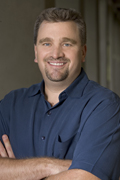 Ed Leonard
Chief Technology Officer
Ed Leonard is Chief Technology Officer for DreamWorks Animation, where he is responsible for providing strategic technology vision and leadership. As part of the senior leadership team at DreamWorks Animation, Ed has played an essential role in the studio's business growth into a premiere family entertainment company.

Ed oversees the technology divisions at DreamWorks Animation and drives the roadmaps to ensure that the innovative technology initiatives are directly furthering the company's business ambitions. During his tenure, Ed has orchestrated the development and execution of engineering efforts to see DreamWorks through multiple industry-changing events such as the transition from traditional to CG animation, the pervasive adoption of Linux, the globalization of the studios, and the recent transition to producing stereoscopic 3D films.

Ed has been instrumental in guiding the development of new technologies that have materially contributed to the success of DreamWorks. Many of these innovations have had broad industry impact and some have even resulted in patent awards for his work. Ed has also been a major contributor in the orchestration and execution of DreamWorks' unique and extremely valuable technology alliances with leading technology companies such as HP, RedHat and Intel.

With more than 18 years of entertainment industry experience, Ed has been credited in more than two dozen feature animated film projects, including the Academy Award-winning Shrek, as well as Madagascar, How to Train Your Dragon and the recent box-office success, Kung Fu Panda 2.

Ed has been recognized for his industry accomplishments including: The 2011 CIO Top 100 Award recognizing companies that exemplify the strategic partnership of IT and business; 2010 Top 25 Executives to Watch in Digital Entertainment; Top 10 Most Creative People in Movies & Television; Top 100 Most Creative People in the Business by Fast Company; and the animation industry's top award, the Annie Award, for Special Achievement in Animation in 2007.
Prior to Ed's entertainment industry career, he held engineering and research positions in the aerospace industry, specializing in visual and simulation systems research.
Ed holds degrees in Computer Science and Math from Cal Poly, Pomona, California.