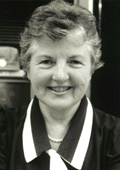 Frances Allen
Fran Allen is regarded as a pioneer in the field of optimizing compilers. Her specialty is the development of advanced compilers for program optimization and her achievements include seminal work in compilers, code optimization and parallelization.

Fran has developed several compilers that have advanced the fields of computer science and high performance computing. She helped create one of the first automatic debugging systems and, as a member of the Stretch/HARVEST project, worked with NSA to develop an advanced code-breaking language known as Alpha.

In the early 80's, she founded the Parallel Translation Group (PTRAN) to study compiling for parallel machines. This group was recognized as one of the top research groups in the world dealing with parallelization issues.

In 1989, she became the first woman to be named an IBM Fellow and in 2007, the first woman to receive ACM's Turing Award. Now retired, Fran remains professionally and technically active as an IBM Fellow Emerita with an office at IBM's T. J. Watson Research Laboratory -- a far different environment from where she started her career as the high school math teacher at the small rural high school in Peru, NY where she grew up.

Allen earned her BS in 1954 from the State University of New York in Albany and her Masters three years later from the University of Michigan. She holds five honorary doctorates and is a member of the National Academy of Engineering and the American Philosophical Society and is a Fellow of the American Academy of Arts and Sciences and the Computer History Museum.