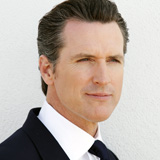 Gavin Newsom
Lieutenant Governor
Lieutenant Governor
Gavin Newsom was elected as the 49th Lieutenant Governor of the State of California on November 2, 2010. His top priorities are economic development and job creation, improving access to higher education, and maintaining California's environmental leadership.

Newsom came from a successful background in both the private sector, starting 15 small businesses and creating more than 1,000 jobs, and local government, having served as both Mayor of the City and County of San Francisco and, before that, a County Supervisor.

As a Supervisor, Newsom focused on combating homelessness. His initiative, Care Not Cash, provided homeless individuals services instead of welfare. Although the city's political establishment opposed Care Not Cash, the voters approved it in November, 2002.

In 2003, after a fiercely-contested race, Newsom was elected the youngest Mayor in San Francisco in more than a century. After only 36 days as mayor, Newsom gained worldwide attention when he granted marriage licenses to same-sex couples. This bold move set the tone for Newsom's first term. Under his energetic leadership, the economy grew and jobs were created. The City became a center for biotech and clean tech. He initiated a plan to bring universal health care to all of the City's uninsured residents. And Newsom aggressively pursued local solutions to global climate change.

In 2007, Newsom was re-elected with more than 73% of the vote. He built upon the successes of his first term, launching new environmental initiatives and a comprehensive strategy to transform one of the City's most troubled neighborhoods into a life sciences, digital media, and clean tech center. More than 80% of the previously uninsured are now covered by City's first-of-its-kind universal health care program. The City enjoys the highest minimum wage in America, universal paid family leave and universal child care. San Francisco's public school district is the highest performing urban school district in the state.