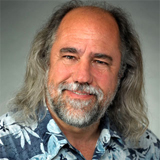 Grady Booch
Chief Scientist for Software Engineering, IBM Research, IBM Fellow, and Free Radical
IBM Thomas J. Watson Research
Grady is recognized internationally for his innovative work in software architecture, software engineering, and collaborative development environments. He has devoted his life's work to improving the art and the science of software development. Grady served as Chief Scientist of Rational Software Corporation since its founding in 1981 and through its acquisition by IBM in 2003. He now is part of the IBM Thomas J. Watson Research Center serving as Chief Scientist for Software Engineering, where he continues his work on the Handbook of Software Architecture and also leads several projects in software engineering that are beyond the constraints of immediate product horizons. Grady continues to engage with customers working on real problems and maintains deep relationships with academia and other research organizations around the world. Grady is one of the original authors of the Unified Modeling Language (UML) and was also one of the original developers of several of Rational's products. Grady has served as architect and architectural mentor for numerous complex software-intensive systems around the world in just about every domain imaginable.

Grady is the author of six best-selling books, including the UML Users Guide and the seminal Object-Oriented Analysis and Design with Applications. He writes a regular column on architecture for IEEE Software. Grady has published several hundred articles on software engineering, including papers published in the early '80s that originated the term and practice of object-oriented design (OOD), plus papers published in the early 2000's that originated the term and practice of collaborative development environments (CDE).

Grady is a member of the Association for Computing Machinery (ACM), the American Association for the Advancement of Science (AAAS), Computer Professionals for Social Responsibility (CPSR), and the Institute of Electrical and Electronics Engineers (IEEE). He is an IBM Fellow, an ACM Fellow, an IEEE Fellow, a World Technology Network Fellow, a Software Development Forum Visionary, and a recipient of Dr. Dobb's Excellence in Programming award plus three Jolt Awards. Grady was a founding board member of the Agile Alliance, the Hillside Group, and the Worldwide Institute of Software Architects, and now also serves on the advisory board of the International Association of Software Architects. He is also a member of the IEEE Software editorial board. Additionally, Grady serves on the board of the Computer History Museum, where he helped establish work for the preservation of classic software and therein has conducted several oral histories for luminaries such as John Backus, Fred Brooks, and Linus Torvalds, and previously served on the board of the Iliff School of Theology.

Grady received his bachelor of science from the United States Air Force Academy in 1977 and his master of science in electrical engineering from the University of California at Santa Barbara in 1979.

When not traveling, Grady lives in Maui and in Colorado, but he also lives virtually - as the avatar Alem Theas - in Thorne Bridge. Grady's interests include reading, traveling, singing, playing the Celtic harp, and kayaking.

At random times, the laws of physics do not apply to him. He is not dead yet.