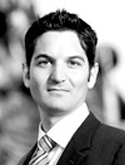 Guy Raz
Guy Raz is the weekend host of NPR News' signature afternoon newsmagazine All Things Considered. Raz was named host of the program in July 2009, after guest-hosting the show for several months.

Every Saturday and Sunday, All Things Considered follows developing and breaking news into the weekend, and also brings listeners in-depth interviews, features and cultural reviews. As host, Raz is just as likely to do a piece about international politics, as he is to do a cooking segment in a D.C. kitchen, or talk to a Borneo-born jazz singer.

Raz worked his way through the ranks of NPR, joining the organization as an intern for All Things Considered in 1997. He became NPR's Berlin bureau chief in 2000, and London bureau chief in 2003. In 2004, Raz left NPR for two years to work as CNN's Jerusalem correspondent, where he chronicled everything from the rise of Hamas as a political power, to the incapacitation of Israeli Prime Minister Ariel Sharon, to Israel's withdrawl from the Gaza Strip in 2005. In May 2004, he spent six weeks with U.S. forces in Najaf during a period of heavy fighting with Shiite insurgents.

He returned to NPR in 2006, covering the Pentagon as NPR's defense correspondent. For his reporting on the military, Raz was awarded both the 2008 Edward R. Murrow Award for best news series and the 2008 Daniel Schorr Journalism Prize awarded by WBUR in Boston. He took a sabbatical from reporting from 2008-2009 for a Nieman journalism fellowship at Harvard University, where he studied classical history.

During his six years abroad, Raz reported from more than 40 countries, with a focus on Iraq, Israel and the Palestinian Territories, Afghanistan, Eastern Europe and the Balkans. He has profiled and interviewed dozens of world leaders, including former Secretary of State Condoleezza Rice, Israeli Prime Minister Ehud Olmert, Shimon Peres, General David Petraeus and Joint Chiefs Chairman Adm. Michael Mullen.

His reporting has been part of two duPont Awards and one Peabody awarded to NPR. He's been a finalist for the Livingston Award four times. For his reporting from Germany, Raz was awarded both the RIAS Berlin prize and the Arthur F. Burns Award.

Before heading abroad, Raz served as a general assignment reporter at NPR in Washington where he covered stories ranging from the early 2000 presidential primaries to a profile on the Doors' song "Light My Fire." His first job at NPR was as personal assistant to NPR Senior News Analyst Daniel Schorr. Raz's written work has appeared in Salon, Washington City Paper, The Washington Post, The Christian Science Monitor and the German daily Sueddeutsche Zeitung.

He holds a B.A. in history from Brandeis University and a master's degree in history from Cambridge University in England.

He and his wife Hannah, an attorney, live in Washington, DC.