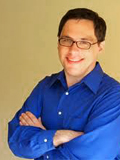 Harry McCracken
Harry McCracken is an editor-at-large for TIME. He covers personal technology for the magazine and for TIME.com.
Prior to joining TIME, he was the founder and editor of Technologizer, an award-winning independent blog that is now part of TIME.com, which he founded in 2008. He also spent fourteen years at PC World, the world's largest computing publication, and has written for Slate, Family Circle, Macworld, Discover, USA Today and other publications.
McCracken is a winner of American Business Media's Timothy White Award. He was honored as one of min's 21 Most Intriguing People and on Folio's Folio 40 list of media movers and shakers. TechRepublic said he was the #1 techie to follow on Twitter, and Kiplinger Personal Finance named him as the best tech gadget guru.
A graduate of Boston University, McCracken lives in the San Francisco Bay Area with his wife Marie.