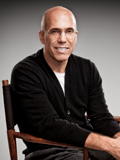 Jeffrey Katzenberg
Jeffrey Katzenberg is the Chief Executive Officer and a Co-Founder and Director of DreamWorks Animation SKG. The Company creates high-quality entertainment for audiences around the world, including CG animated feature films, television specials and series, live entertainment properties and online virtual worlds.

DreamWorks Animation is the largest animation studio in the world and has released 21 animated feature films, which have enjoyed both critical and commercial successes. These include the franchise properties of Shrek, Madagascar, Kung Fu Panda and How to Train Your Dragon. Under Katzenberg's leadership, DreamWorks Animation became the first studio to produce all of its feature films in 3D and in 2010 became the first Company to release three CG feature films in 3D in a single year. DreamWorks Animation has been named one of the "100 Best Companies to Work For" by FORTUNE® Magazine for three consecutive years. In 2011, DreamWorks Animation ranks #10 on the list.

The Company established DreamWorks Theatricals in 2007. Shrek The Musical premiered on Broadway in December of 2008 and began a national touring show in the summer of 2010. DreamWorks Animation's Nickelodeon-produced The Penguins of Madagascar became the most-watched series premiere on the network and continues to garner impressive ratings. The Company has produced a number of network television specials and its first online virtual world, Kung Fu Panda World, launched in 2010.

DreamWorks Animation was a division of DreamWorks SKG until October 2004, when it became a publicly traded company. Katzenberg co-founded DreamWorks SKG with Steven Spielberg and David Geffen in October 1994. Since its inception, DreamWorks has produced a number of celebrated films, including three Best Picture Academy Award® winners – American Beauty, Gladiator, and A Beautiful Mind. The studio released its first animated films in 1998 – Antz and The Prince of Egypt.

Prior to co-founding DreamWorks, Katzenberg served as Chairman of The Walt Disney Studios. During his tenure, the studio produced such landmark animated films as Who Framed Roger Rabbit, The Little Mermaid, Aladdin, The Lion King and Beauty and the Beast, the first animated film to be nominated for a Best Picture Oscar®, as well as such live action hits as Good Morning, Vietnam, Three Men and a Baby, Dead Poets Society, Pretty Woman, Father of the Bride and Sister Act. Katzenberg previously served as President of Paramount Studios, where he was involved in such now-classic films as Raiders of the Lost Ark, Saturday Night Fever, Grease and Best Picture Academy Award® winners Ordinary People and Terms of Endearment.

Together with his wife, Marilyn, Katzenberg provides support and leads fundraising efforts on behalf of dozens of local, national and international organizations focused on healthcare, education, the arts, Jewish causes, children, civic improvement and the environment. In addition to serving as Chairman of the Board for the Motion Picture & Television Fund Foundation, Katzenberg sits on the Boards or serves as a Trustee of the following organizations: AIDS Project Los Angeles, American Museum of the Moving Image, California Institute of the Arts, Cedars-Sinai Medical Center, Geffen Playhouse, Michael J. Fox Foundation for Parkinson's Research, University of Southern California School of Cinematic Arts and The Simon Wiesenthal Center. He also supports the Elton John AIDS Foundation and Boston University. Together with DreamWorks Animation, Katzenberg founded the DreamWorks Animation Academy of Inner-City Arts in 2008.