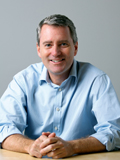 John J. Wood
Founder and Board Co-Chairman Room to Read
At age 35, John Wood left an executive career track at Microsoft Corporation to form Room to Read, a nonprofit organization that "combines the heart of Mother Theresa with the scalability of Starbucks" to help children across the developing world break the cycle of poverty through the power of education. Razor-sharp business acumen honed at Microsoft, combined with a passion to change the world makes John Wood a unique, inspiring and popular speaker with universal appeal.

John founded Room to Read out of deep concern that nearly one billion people lack basic literacy and that over 200 million children in the developing world are not enrolled in school. "I was blessed with a solid education which was a wonderful foundation for my future. As a result, I had a great career at a company that encourages people to dream big dreams. I started Room to Read as a way to give that same opportunity to children in the world's poorest places. Education is a hand up, not a hand out. It is within our power to be the generation that ends poverty, so we need to think big and execute flawlessly."

Since its start in 2000, Room to Read has sponsored the opening of more than 1,400 schools and more than 11,000 multi-lingual libraries across the developing world. The organization has distributed over 9.4 million children's books in multiple languages and supports nearly 11,000 girls with long-term scholarships. John describes these results as "total tip of the iceberg" as Room to Read plans to increase this literacy network to 20,000 libraries and schools serving at least 10 million children by the year 2015.

In his award-winning memoir, Leaving Microsoft to Change the World (Collins, 2006), John tells the story of how he raised over $125 million of financial commitments from a "standing start" to develop one of the fastest-growing non-profits in history. The book was described by Publishers' Weekly in a starred review as "an infectiously inspiring read." Translated into 21 languages, it is popular with entrepreneurs, philanthropists, educators, and internationalists alike, and was selected by Amazon.com as one of the Top Ten Business Narratives of 2006 and voted by Hudson Booksellers as a Top Ten Nonfiction title of 2006. The book was also featured during John's appearance on The Oprah Winfrey Show and the resulting "Oprah's Book Drive" with Room to Read raised over $3 million from viewers.

John holds a Masters in Business Administration from the Kellogg Graduate School of Management at Northwestern University, a B.S. in Finance from the University of Colorado, and an Honorary Doctorate in Humane Letters from the University of San Francisco. He also serves on the Advisory Board for the Clinton Global Initiative. He is currently working with Viking Penguin on his second book to be published in late 2012.