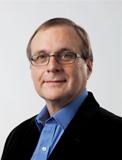 Paul Allen
Founder and Chairman
Vulcan Inc.
Investor and philanthropist Paul G. Allen creates and advances world-class projects and high-impact initiatives that change and improve the way people live, learn, work and experience the world through arts, education, entertainment, sports, business and technology. He co-founded Microsoft with Bill Gates in 1975, remained the company's chief technologist until he left Microsoft in 1983, and is the founder and chairman of Vulcan Inc.

In addition, Allen's multibillion dollar investment portfolio includes a large stake in Plains All American, as well as holdings in real estate and more than 40 technology, media and content companies. In 2004 Allen funded SpaceShipOne, the first privately-backed effort to successfully put a civilian in suborbital space and winner of the Ansari X-Prize competition. Allen also owns the Seattle Seahawks of the National Football League, the Portland Trail Blazers of the National Basketball Association, and is part of the primary ownership group for the Seattle Sounders FC, the city's Major League Soccer team.

With lifetime giving of about $1 billion, Allen has been named one of the top philanthropists in America. Allen gives back to the community through the Paul G. Allen Family Foundation, whose goal is to transform individual lives and strengthen communities by supporting arts and culture, youth engagement, community development and social change, and scientific and technological innovation throughout the Pacific Northwest. In 2003, Allen contributed $100 million to create the Allen Institute for Brain Science. The Seattle-based Institute is an independent, nonprofit medical research organization dedicated to accelerating the understanding of how the brain works. The Institute takes on projects at the leading edge of science—far-reaching projects at the intersection of biology and technology. The resulting data create publicly available resources that fuel discovery for countless other researchers worldwide.

Allen is also founder of Experience Music Project, Seattle's critically-acclaimed interactive music museum; the Science Fiction Museum and Hall of Fame; the Flying Heritage Collection, an assemblage of rare World War II aircraft restored to flying condition and shared with the public; and Vulcan Productions, the independent film production company behind the award-winning feature HARD CANDY; the Evolution series on PBS; The Blues, executive-produced by Martin Scorsese in conjunction with Allen and Jo Lynn Allen; the Emmy-award winning Rx for Survival A Global Health Challenge; and the Peabody award-winning Judgment Day: Intelligent Design.