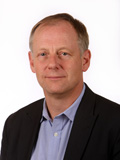 Richard Waters
Richard Waters is the West Coast Editor for the Financial Times. His beat covers the technology industry.

Before moving to the West Coast, Waters was based in the FT's New York office for nine years. His roles there included Wall Street reporter, New York bureau chief, and the FT's first information industries editor, overseeing global coverage of technology, telecommunications and media.

Waters previously worked at the FT in London where he held a number of positions, including editor of international capital markets, securities industry correspondent and accountancy and taxation correspondent.

Before working for the FT, Waters worked as a reporter and editor for several financial magazines. He also worked for two years at Lloyd's Bank International and lived in Chile, also working as a teacher.

In 2004, Waters was awarded Corporate Finance Reporter of the year for his coverage of Google's IPO. Waters was shortlisted for the Business & Finance Reporter of the Year award at the British Press Awards in 2003 and won the award in 1992 as part of a team covering the BCCI scandal. In 1988, Waters was named Accountancy Journalist of the Year.

Waters appears regularly on the BBC, CNBC, MSNBC, CNNfn and NPR.

Waters received his Bachelor's degree from St. Edmund Hall, Oxford University.