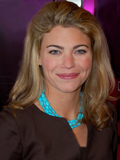 Sarah Feinberg
Sarah Feinberg serves as a director of policy communications at Facebook, where she manages message strategy and communications surrounding issues such as safety, security and privacy, among others. Feinberg also manages the company's Washington-based communications.

Previously Feinberg served as director of communication and business strategy efforts at Bloomberg LP. Feinberg also managed Bloomberg's Washington-based communications, and focused on expanding Bloomberg's presence globally.

Feinberg previously served in the Obama administration, where she was Special Assistant to the President and Senior Advisor to White House Chief of Staff Rahm Emanuel. Feinberg worked for the Obama administration since its inception and served on the presidential transition team following the 2008 election. In the White House, Feinberg served as the Chief of Staff's liaison to the Obama economic team and press and communications departments, and coordinated the administration's strategic communications response to the country's fiscal and economic crisis, the H1N1 flu pandemic and the recent mine disaster in West Virginia.

Prior to serving in the White House, Feinberg was the Communications Director at the House Democratic Caucus, the Press Secretary for the Democratic Congressional Campaign Committee, and national Press Secretary to former Senate Minority Leader Tom Daschle. Feinberg is a graduate of Washington and Lee University with a degree in politics.