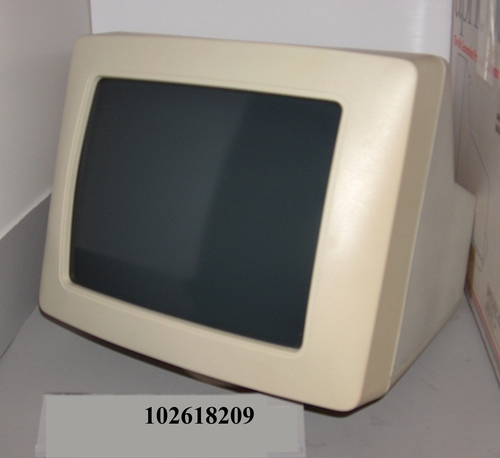 Title
ACT Apricot personal computer monitor
Date
1983 ca.
Manufacturer
Advanced Computer Techniques Corporation (ACT)
Place Manufactured
U.K.
Identifying Numbers
Other number
AM00030SU
Printed on stickers affixed to several sides of the box
Serial number
SC081404
Dimensions
monitor: 11 1/4 in x 13 in x 13 in
Description
The object consists of an 11-inch (diagonal) CRT monitor with an attached cable, the manufacturer's original printed box, the original manufacturer's unpacking instruction card, a plastic bag for the monitor, and internal foam-block packaging inserts.. There is an unlabeled rotating knob, approximately 1/2-inch in diameter and protruding approximately 1 inch from the upper back of the front section of the case. The monitor is mounted on an attached swivel base and has an integral handgrip recess molded into the rear of the top of the front section of the case. There is a coiled cable attached to the monitor. It is terminated with a DB-9-S plug.
Category
I/O/display/CRT