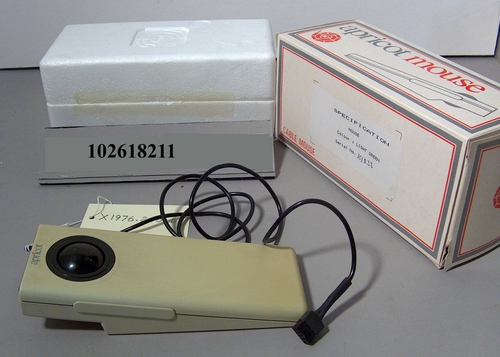 Title
ACT Apricot personal computer mouse
Date
1983 ca.
Manufacturer
Advanced Computer Techniques Corporation (ACT)
Place Manufactured
U.K.
Dimensions
overall: 1 3/8 in x 2 1/2 in x 7 in
Description
Object consists of mouse with attached cable, original manufacturer's printed box, and internal foam-block packaging. This object is stored in the original manufacturer's box for the related system unit (CPU box) listed above, as shipped by the manufacturer. The object has a ball that protrudes through both the top and the bottom of the object so that it can be operated as either a mouse or a trackball. The object has two 2 1/2 x 1/4 in. buttons, one on each side panel. "Apricot" is printed at the top edge of the top of the object. The object has a thin, black attached cable, with a 3/16 x 1/2 in. rectangular plug incorporating two rows of sockets, with 5 sockets in each row. The sockets are similar to those used for card-edge connectors.
Category
I/O/pointing/mouse