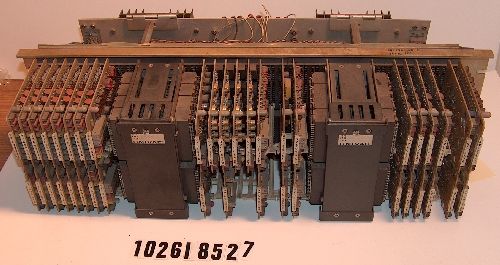 Title
UNIVAC Magnetic Core Memory
Date
1958 ca.
Manufacturer
Univac
Identifying Numbers
Model number
9001-00 (type)
Other number
4026050-00 (part number)
Serial number
200 and 1749
200 and 1749 (on the core memory units themselves)
Dimensions
6 1/2 x 22 1/4 x 11 in.
Description
Magnetic core unit from a UNIVAC computer (no indication of which model). This was an internal unit that has been unbolted from its support. The core is divied into two sections with electronics between. Cores are not visible as they are encased in black boxes.
Category
Memory/core