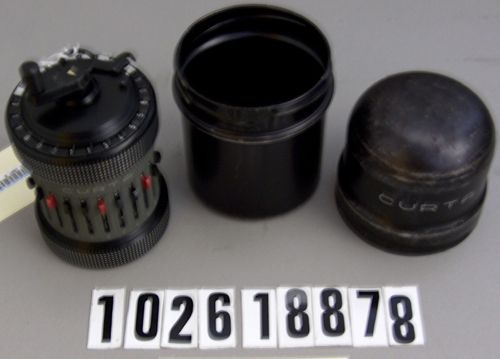 Title
Curta mechanical calculator
Date
1954
Manufacturer
Contina Ltd.
Place Manufactured
Liechtenstein
Identifying Numbers
| | |
| --- | --- |
| Model number | Type II |
| Serial number | 555503 |
Dimensions
in box: 2.75 x 5.25 x 5 1/4 in
Description
The case is metal, not plastic (for Curta S/N 555503, Acces. No. 102618878, and for Curta S/N 513508, Acces. No. B325.84).. The name of the Liechtenstein commune, Mauren, is printed on the bottom plate of the calculator. This calculator has a flat-topped crank with a trapezoidal cross section. This calculator has a protrusion on the underside of the crank, under the crank handle. The crank of this calculator is secured to the main shaft with a screw or pin that is oriented perpendicular to the crank. This calculator has 6 "silver" studs protruding from the beveled surface between the crank and the readout numbers. This calculator has 3 "silver" studs protruding from the bevel between the input sliders and the lower knurled ring on the main body.
Category
Calculator/mechanical