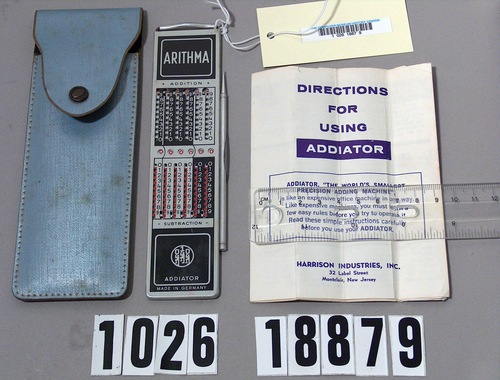 Title
Arithma Addiator adding machine
Manufacturer
Harrison Industries, Inc.
Place Manufactured
Germany
Dimensions
overall: 1/2 in x 6 1/4 in x 2 1/4 in
Description
This object consists of the calculator, a metal stylus, a set of instructions, and a light blue leatherette case. The back of the calculator is silver-colored. The leatherette case is stitched and has a long, pointed, flap with metal snap. The case is printed with a cloth-like pattern, but does not have any labeling. The instructions are labeled: Harrison Industries, Inc., Montclair, N.J.. The object has the legend, "MADE IN GERMANY," printed on the front of the calculator.
Category
Calculator/mechanical