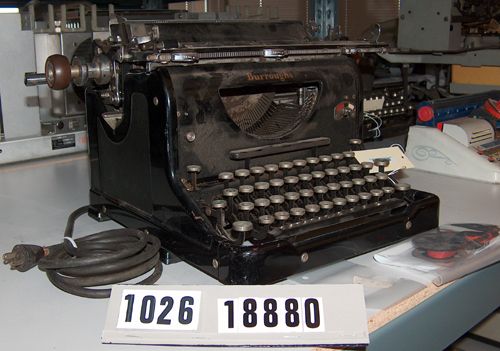 Title
Burroughs Class 60 Typewriter
Description
The machine has the word, "Burroughs" printed in gold letters on front of machine. "Burroughs" and additional patent information is printed in gold on the back of the machine. There is a semi-circular, rotating-lever, red-black-"white" (stencil?) print selector towards the upper right of the front panel. The following keys have green backgrounds: "Shift Key," "Shift Lock," "Carriage Return," "Margin Release," and "Back Space".
Manufacturer
Burroughs Adding Machine Company
Place Manufactured
U.S.
Identifying Numbers
Model number
Class 60
Other number
GB# 64
GB# 64 is written on a white, rectangular, adhesive tag on the left side of the machine.
Serial number
A489489
Dimensions
11 1/2 x 18 x 14 1/4 in.
Category
Miscellaneous/other