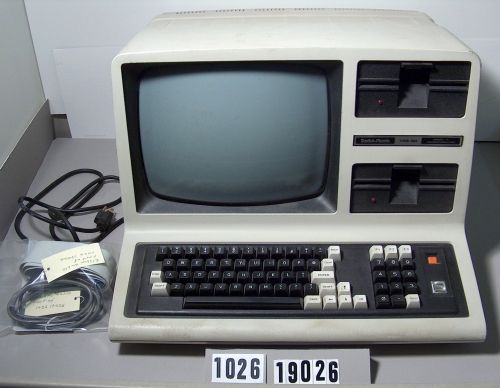 Title
TRS-80 Model 4 Microcomputer
Date
1982
Manufacturer
Radio Shack, A Division of Tandy Corporation
Place Manufactured
U.S.
Identifying Numbers
Model number
4
Other number
11UEA467
Printed in black ink directly on the bottom of the object
Other number
26-1069A
Listed as the model number in the serial-number box on the serial-number label.
Serial number
006709
Dimensions
13 x 18 1/2 x 21 in.
Description
The dimensions are of the computer, excluding the attached power cord with standard U.S. three-prong power plug and the attached ribbon cable.. The object consists of the computer, a frosted vinyl dust cover, and a separate gray cable with a 1/2-inch diameter round five-pin polarized DIN or MIDI-type connector on one end and three two-conductor mini-phone plugs on the other end (2 x 3.5 mm & 1 x 2.5 mm).. A gray ribbon cable approximately 1 5/8 in. wide and approximately 72 in. long extends from the lower edge of the rear of the object. The free end of that cable is terminated in a blue Amphenol 57F-36 Centronics-type plug. 225F-A34-5 D6 socket. The front panel of the object has a built-in keyboard, a 12-inch CRT monitor, and two 5 1/4-inch floppy disk drives. The front panel also has a label that reads, "64K RAM," and a label that reads, "Radio Shack TRS-80 Model 4 Microcomputer.". There is a white adhesive label on the bottom of the object with illustrated instructions on how to connect cables to the computer, and with the number "87891196" printed at the bottom.
Category
Digital computer: desktop
Credit
Gift of Bob Morgan