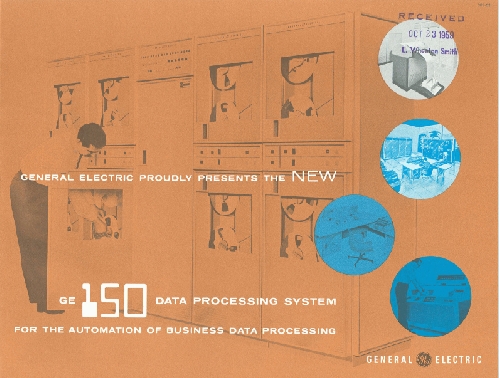 Title
General Electric Proudly Presents the New GE 150 Data Processing System for the Automation of Business Data Processing
Date
1959
Publisher
General Electric Company (GE)
Place of Publication
U.S.
Identifying Numbers
| | |
| --- | --- |
| Other number | CPB-52 (10M 9-59) |
Extent
10 p.
Dimensions
8 1/2 x 11 in.
Copyright Holder
General Electric Company (GE)
Description
A four color brochure for the GE 150. The cover features an orange background with a picture of a man adjusting the magnetic tape unit of the 150. Circular pictures of the 150's peripherals are included on the right hand side of the cover. The date "OCT 23, 2959 Received by L. Wheaton Smith" is stamped in the upper left hand corner. The inside cover features a drawing of the 150 being used in an office. Next to this drawing is an explanation of the "urgent need for... automation of business data processing" and the 150's capabilities. Underneath this section is the promise "This proved GE 150 system is available!" Page 3 lists the major units of the GE 150, such as the central processor, high speed magnetic re-entry printer, card reader, and 400 cycle motor alternator. Half-pages list the 150's components next to orange and white pictures. The features of the GE 150 are listed on page 8. A section titled "Why Magnetic Ink Printing?" is included on page 9, with examples of different checks. Page 10 has information on the "Services of the General Electric Computer Department." The back cover lists General Electric offices to contact for more information and the phrase "For figures in a hurry - figure on a GE computer."
Category
Promotional Material
Subject
promotional materials; Business applications; Digital computer: mainframe; GE 150 (Computer); General Electric Co. (GE)
Credit
Gift of L. Wheaton Smith