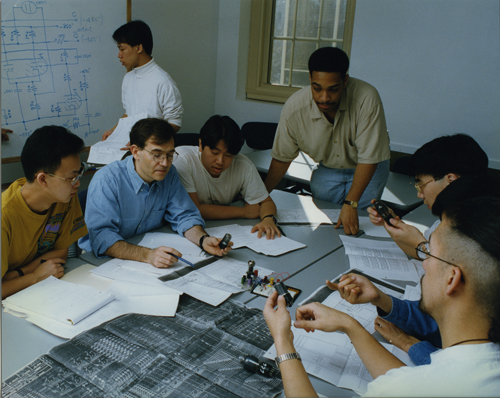 Title
ENIAC on-a-chip design team
Date
1995 ca.
Publisher
University of Pennsylvania
Place of Publication
Philadelphia, PA, US
Dimensions
8 x 10 in.
Format
Photographic print
Description
This is a color image of seven men in the room with six men at a table looking at various transistors and vacuum tubes while looking at schematics on the table. The walls are bare except for the white board with a circuit diagram drawn in blue ink. There are two people by the white board but the person on the left is not fully shown except for his left hand which is pointing at white board. The other man, wearing a white turtleneck shirt, is standing next to the white board holding a schematic drawing while looking at the white board. Light is coming from the window as well as from the direction of the camera. Written on the label on verso side is "Eniac-on-a-Chip Design Team Work Session: Reading blueprints and manuscripts Summer 1995 - from left to right: at table: Lin Ping Ang, Jan Van der Spiegel, Wallace Wong, Matterson Zeno, Dong Yoon, Mike Feng (not shown), Titi Alailima, James Tau (not shown); Standing: Fred Ketterer and Raymond Tong"
Category
Publicity photograph; Identification photograph
Subject
ENIAC (Computer); Yoon, Dong; Zeno, Matterson; Spiegel, Jan Van der; Alailima, Titi; Tong, Raymond; Feng, Mike; Ketterer, Fred; Integrated circuits; Ang, Lin Ping; Tau, James; Wong, Wallace
Credit
Courtesy of Gwen Bell