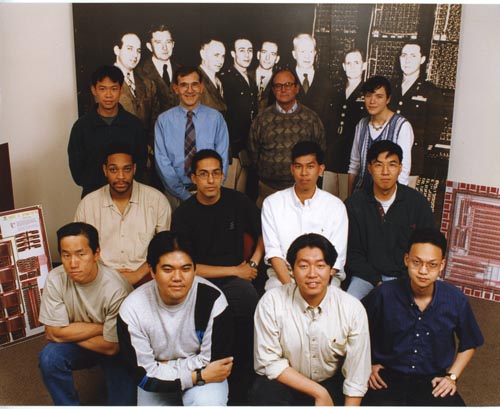 Title
ENIAC on-a-chip design team
Description
This is a color image of the ENIAC-on-a-Chip Design Team.They are in front of a blown up famous photograph of the officials
responsible for the development of ENIAC. Verso: White Label: University of Pennysylvania Archives The ENIAC-on-a-Chip student/faculty desigh team, taken on the occasion of the ENIAC 50th Celebrtation in February 1996. From front left to right James Tau, Gilbert Pajela, Wallace Wong, Lin Ping Ang, Mathew Zeno, Titi Alailima, Mihael Feng, Dong Yoon, Raymond Tong, Jan Van der Spiegel, Frederick Ketterer, and Debra Seider.
In the background is a photograph of the members of the original ENIAC team taken at the Moore School of Electrical Engineering in 1946.
Date
1995 ca.
Publisher
University of Pennsylvania
Place of Publication
Philadelphia, PA, US
Dimensions
8 x 10 in.
Category
Publicity photograph; Identification photograph
Credit
Courtesy of Gwen Bell