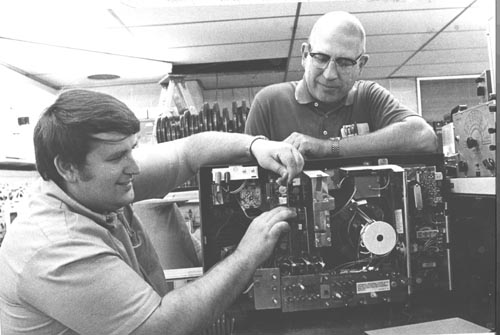 Title
MIT - Dr. lloyd Thompson and Dr. D.L. Jelden
Dimensions
overall: 8 in x 10 in
Description
B&W image of Dr. Lloyd Thompson and Dr. D. L. Jelden working on a computer. Behind them are some tape reels and a signal generator.
Verso: " Lloyd built MITS Conmputer used in lab, Model 8800A-
Left: Dr. Lloyd Thompson, builder of the first time/share microcomputer dedicated to CAI using 4 interactive terminals.
Dec - 1977 (3 ADM 1-A Crt's + DEC Printer)
Right Dr. D.L. Jelden, Developer of the LCES System and software CAI program model using CP\M Dos. (ISSCAI w/Gary)"
Category
Photograph
Credit
Courtesy of Gwen Bell