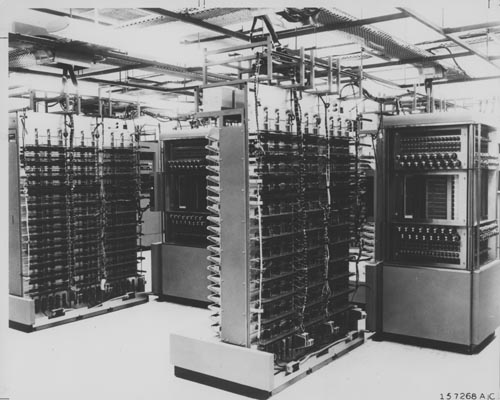 Title
SAGE Core Memory Unit
Publisher
DAVA
Identifying Numbers
| | | |
| --- | --- | --- |
| Other number | 157268 AC | Verso ink |
| Other number | 157268 AC | Recto bottom right corner |
| Other number | P4509 | Verso pencil |
Dimensions
overall: 8 in x 10 in
Description
B&W image of SAGE Memory unit with associated electonic frames under installation.
Verso: Paper label; "Return to file: AN/FSQ-7 SAGE"
Verso: Paper label; " SAGE - Mcguire AFB Computer A Magnetic Core Memory Frame Credit: McGuire Air Force Base, New Jersey Source: DAVA Still Photo. Depos."
Vertso: Paper label red ink; " P3 FCore Memory Unit 2 Credit : DAVA 13"
Category
Photograph
Credit
Courtesy of Gwen Bell