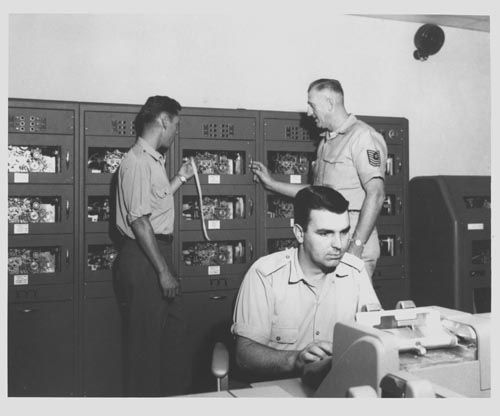 Title
SAGE Manual Inputs Section
Description
B&W image of a SAGE Manual Inputs Section room. On the rear wall are a stack of paper tape devices. A man is standing in front holding a length
of paper tape while a Master Sergeant is stanging next to him. Another man is seated at a punch card keypunch.
Verso: attached paper; "Pl-151010 United States Air Force Master Sergeant Julian P. Behany, NCOIC of the Manual Data Inputs Section watches as LAC Bernard A. Giles checks an incoming tape which he will give to LAC Donald Giles ( seated) to place into the key punch machine. Information from the card it creates goes then to the card reader which inserts the data into the computer memory. Some of the data necessary to run the air defence battle cannot be inserted electronically directly into the computer. It must be "manhandled" i.e. flight plans, weather, and missile status."
Identifying Numbers
| | | |
| --- | --- | --- |
| Other number | P4516 | Verso Pencil |
| Other number | PL-151010 | Verso paper label ink |
Dimensions
overall: 8 in x 10 in
Category
Photograph
Credit
Courtesy of Gwen Bell