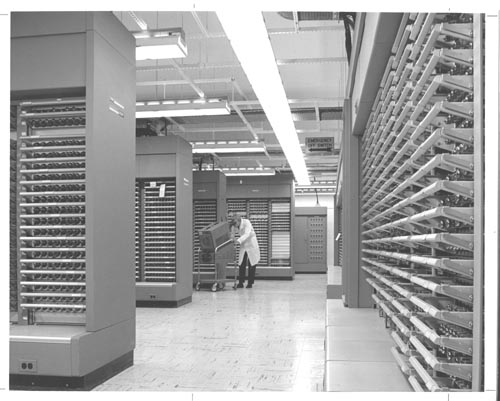 Title
SAGE Arithmetic Unit
Description
B&W. SAGE room. Man, in white lab coat, viewing a screen in the rear of the room. He is surrounded by vacuum tubes in series of rows and panels. To his right/back, near the ceiling is a sign "Emergency Off Switch". Signs on panels "IBM" "USAF".
Verso black stamp: "Photograph by the Systems Development Corporation 2500 Colorado Ave.EXbrook 3-9411 Santa Monica, California"
Paper label: Arithmetic Unit credit SDC"
Dimensions
overall: 8 in x 10 in
Category
Photograph
Credit
Courtesy of Gwen Bell