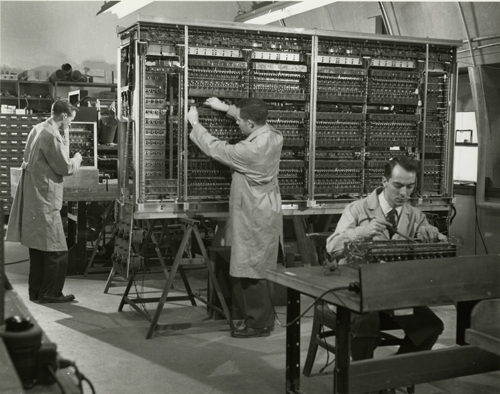 Title
Warren Kelleher, Robert Dennis, and James Woody Jr. working on AVIDAC computer
Description
This is a black and white image of three men, wearing labcoats, working on the AVIDAC computer. Light is coming from the ceiling lights and from the left side of image. Warren Kelleher completes the wiring of the arithmetic unit components of the AVIDAC at Argonne National Laboratory. Robert Dennis installs the inter-unit wiring as James Woody Jr. adjusts the deflection control circuits of the memory unit. An inspiring summer school on computing at the University of Pennsylvania¦s Moore School of Electrical Engineering stimulated construction of stored-program computers at universities and research institutions. This free, public set of lectures inspired the EDSAC, BINAC, and, later, IAS machine clones like the AVIDAC.
Written on the verso side in pencil is "TCM #354". Written in black ink pen is "#339" but has been crossed off and "13". Stamped on verso side is "ARGONNE NATIONAL LABORATORY PHOTOGRAPH ANL NEGATIVE No. 201-108 WHEN REORDERING PLEASE SPECIFY NEGATIVE NUMBER". Written on white label in blue ink is "289".
Date
1946 ca.
Place of Publication
Argonne, IL, US
Identifying Numbers
| | |
| --- | --- |
| Other number | 13 |
| Other number | 201-108 |
| Other number | 289 |
| Other number | 339 |
| Other number | 354 |
Dimensions
8 x 10 in.
Format
Photographic print
Category
Publicity photograph; Identification photograph
Subject
Woody, James, Jr.,; Dennis, Robert; Kelleher, Warren; Argonne National Laboratory; AVIDAC
Credit
Courtesy of Gwen Bell