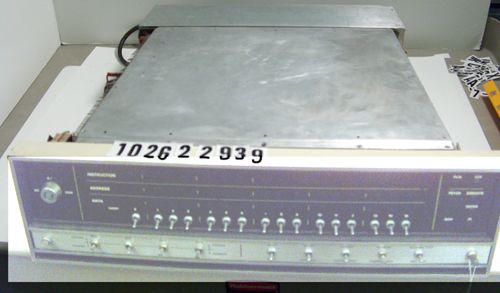 Date
1968
Manufacturer
Data General Corporation (DGC)
Place Manufactured
U.S.
Identifying Numbers
Other number
0922
0922 is printed in black on a plate near the middle of the bottom of the object.
Other number
107962
Asset tag
Serial number
1
Dimensions
overall: 5 1/4 in x 19 in x 21 1/2 in
Description
Five printed circuit boards are visible along the right-hand side of the object. They are 15 inches wide.. "DGC NOVA 1200," is printed in silver metal on the upper face of the right-front corner of the uppermost printed circuit board. "Copyright c 1970 by Data General Corp. , [All Rights Reserved], 107-000083-14 373," is printed in silver metal and black ink on the upper face of the right-rear corner of the uppermost printed circuit board.

The uppermost circuit board marked "DGC NOVA 1200" was removed in December 2010 when it was determined by Gardner Hendrie that this board was not specific to this unit. Gardner wrote in an e-mail to CHM's registrarial staff:
"I called Ed McManus, 508-481-0591, and he filled me in on the background story about this machine. He is the person who made the gift of the Nova to the Museum happen. He was head of sales admin for almost all of DG's life and before that did the same thing at 3C.

The story of the machine that is not part of the artifact labels is as follows. After it was recovered from Braniff, who had lost it, it was sold to another customer. About 1976, when DG moved from their old headquarters in Southboro, MA to Westboro, MA, about a half mile away, Ed deCastro, the founder and CEO, thought it might be a good idea to locate serial #1 and put it on display, running, in the lobby of the new building. He asked Ed McManus to locate the machine. Ed found it in a broom closet at the University of Texas. When Ed asked whether DG could have it back it's value suddenly went up in the eyes of the Texas officials. The result was that DG swapped a new Eclipse S-140 (designed by CHM trustee David Emerson fresh out of WPI), one of the latest DG machines, for Serial #1. The machine was on display in the DG lobby for a number of years. Eventually, it was retired to a storage area. When DG was bought by EMC in 1999 and McManus was about to leave the company, he became concerned that the machine might be put in the dumpster. That is when he started a campaign to save the machine and donate it to the Museum."
Category
Digital Computer: minicomputer
Credit
Gift of E.M.C. Corporation Data General Division