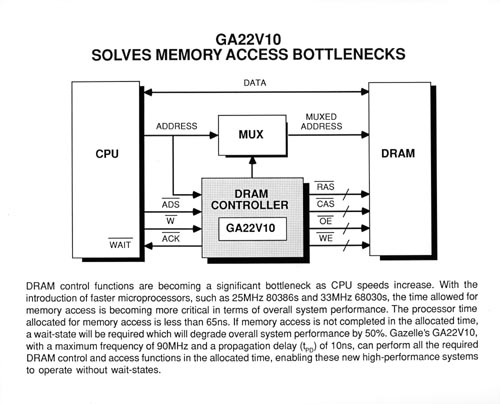 Title
Gazelle GA22V10 Solves Bottlenecks
Dimensions
overall: 8 in x 10 in
Description
B&W image of a GA22V10 Solves Memory Access Bottlenecks Chart.
Label: Bottom Margin "DRAM control functions are becoming a significant bottleneck as CPU speeds increase. With the introduction of faster microprocessor, such as 25MHz 80386s and 33MHz 69030s, the time allowed for memory access is becoming more critical in terms of overall system performance. The processor time allocated for memory access is less than 65ns. If memory access is not completed in the allocated,time, a wait-state will be required which will degrade overall system performance by 50%. Gazelle's GA22V10, with a maximum frequency of 90MHz and a propagation delay (tpd) of 10ns, can perform
all required DRAM contorol and access functions in the allocated time, enabling these new high-performance systems to operate without wait-states."
Category
Identification photograph
Credit
Courtesy of Gwen Bell