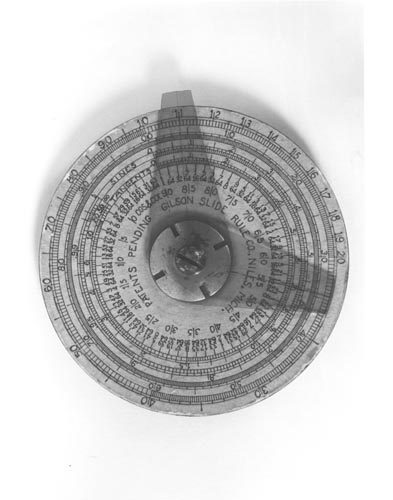 Photographer
Bromfield, David
Identifying Numbers
| | | |
| --- | --- | --- |
| Other number | P4092 | Verso Pencil |
| Other number | P83.11 | Verso Pencil |
Dimensions
overall: 8 in x 10 in
Description
B&W. Close up of Gilson Circular Slide Rule. Shows the two cursors, circular lines with numbered divisions. "Gilson Slide Rule Co., Niles, Mich. Patents Pending"
Verso: White paper label " Please Return to: The Computer Museum Photographic Archives 300 Congress Street Boston, MA 02210"
Verso" Small white paper label with yellow heading " Gildson Slide Rule Ph. by D. Bromfield"
Category
Photograph
Credit
Courtesy of Gwen Bell