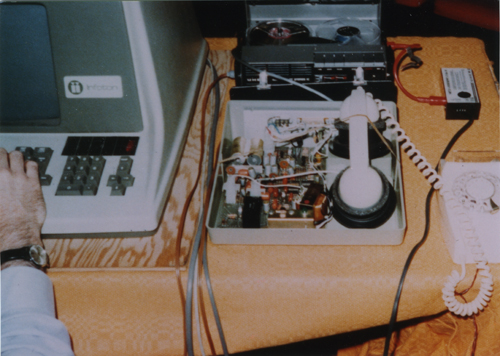 Title
Modem and Infoton terminal being used for ARPANET by Vinton Cerf in South Africa
Date
1974 ca.
Place of Publication
Johannesburg, South Africa
Dimensions
5 x 7 in.
Format
Photographic print
Description
This is a color image of a closeup of the Infoton term and modem that Vinton Cerf was using in South Africa in demonstrating ARPANET. It was done in conjunction with a conference sponsored by the International Federation of Information Processing Societies (IFIPS). The white modem is shown with the cover removed revealing the interior. There is a reel to reel tape recorder on the table in the background. Mr. Cerf's right hand is seen typing into the terminal on the left side of the image. Written on verso side is "3" and is circled.
Category
Snapshot; Identification photograph; Publicity photograph
Subject
Cerf, Vinton G.; ARPANET
Credit
Courtesy of Gwen Bell