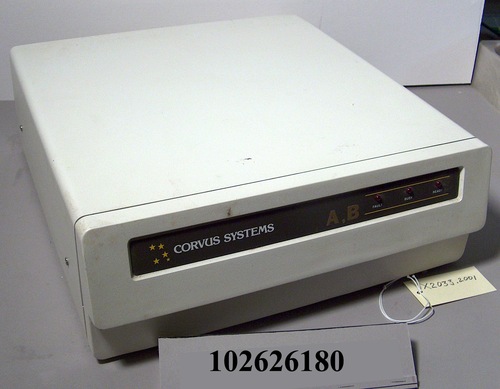 Manufacturer
Corvus Systems
Place Manufactured
Calif., U.S.
Identifying Numbers
Model number
5MB
Other number
see note
Revision B is typed in a dedicated space on the manufacturer's serial-number label on the rear panel of the object.
Serial number
371-A064
Dimensions
5 1/4 x 14 1/2 x 15 in.
Description
The front panel of the object has is labeled "Corvus Systems" and has the Corvus Systems five-star constellation logo. The front panel also has three indicator lamps labeled "Fault," Busy," and "Ready." Between the Corvus label and the indicator lamps are gold-colored adhesive label stickers reading, "A, B." Further down the front panel, partly concealed under an overhang, are four red toggle switches.
The rear panel of the object has: two RCA-type jacks labeled "Video" and "In" and "Out;" a 3M type 3492 connector, with two rows of ten pins each, labeled "VCR Remote"; a four-position, rotating selector switch labeled "1, 2, 3, and 4" over each of the four respective switch positions and "open" under all the positions; two 3M type 3494 connectors, each with two rows of 17 pins each, labeled "Processor" and "Drive," respectively; one rocker-type on-off switch; and one integrated block with a fuse box, voltage selector, and IEC-320-C14 recessed three-prong power-inlet cable connector.
A blue dot has been marked in ink over the "Processor" connector.
Category
Memory/disk