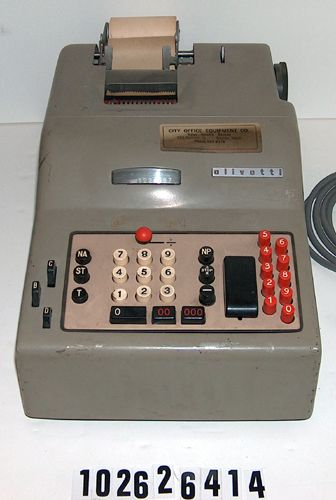 Title
Divisumma electrical adding machine model 14 AM
Description
Object consists of adding machine and power cord. Sticker from City Office Equipment Co. on front of casing.
Manufacturer
Olivetti
Place Manufactured
Italy
Identifying Numbers
Model number
14 AM
On plate on back
Model number
MC 14/51
Other number
962758
Engraved in bottom
Dimensions
7 x 9 1/4 x 17 in
Category
Calculator/electromechanical
Curator Notes
Olivetti engineer Natale Capellaro and industrial designer Marcello Nizzoli created a number of the company's calculators. The Divisumma models offered automatic calculation with all four basic operations; the Divisumma 14 was an early example of a printing calculator with automatic division. The later Divisumma 24 was a great commercial success for Olivetti.