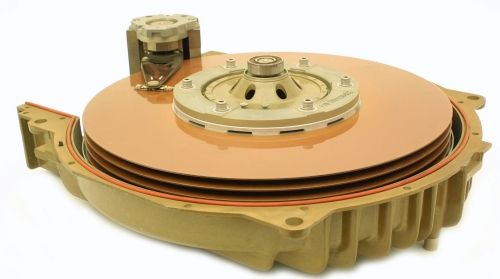 Title
DEC Head Disk Assembly (HDA)
Date
1981 ca.
Manufacturer
Digital Equipment Corporation (DEC)
Place Manufactured
US
Identifying Numbers
Other number
7420797-00C
Stamped on case
Other number
7424196-01D
Other number
R-81B2182F
Hand written in marker on spindle
Dimensions
overall: 6 in x 18 in x 16 in
Copyright Holder
Mark Richards
Description
An open HDA showing disk platters and actuator. The RA80 was DEC's first entry into large capacity Winchester disks. The first product was a 120 MB "clamshell" HDA with a unique moving magnet actuator. DEC introduced several innovations later widely used in the industry, including Reed-Solomon error correction coding (ECC) and a serial drive-to-controller interface. Later versions, the RA81 and RA82 were upgraded to capacities in excess of 450 MB. These drives were the primary mass storage in the 1980s for DEC's innovative clustering technology and connected to a variety of controllers for PDP-11, VAX, and DEC-10 systems.
Category
Memory: disk
Subject
magnetic; mechanical; minicomputers; Electronics
Credit
Gift of F. Grant Saviers