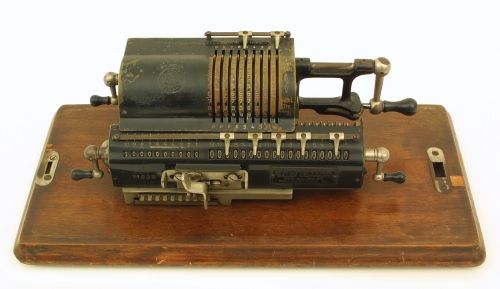 Title
Brunsviga - Midgit System Trinks calculator
Description
Calculator is on a wooden base which is part of a disappearing desk top according to the Bell web site. Calculator consists of two interconnecting metal components with turning handles for internal wheels, one on the upper part and two one each side of the lower part. Components are labeled with numbers vertically on the top and horizontally along the bottom with levers and markers. Pasted on the bottom of the base is a paper label with initial operating instructions from the maker; manufacturer's name illegible. The black varnish on the numbers of the upper part has been rubbed away to reveal brown metal underneath.
Date
undated
Manufacturer
Brunsviga Sales Company
Identifying Numbers
Model number
Midget Trinks
Other number
71939 hand
71939 hand written on the bottom of the base in pencil
Serial number
71939
Dimensions
5 x 15 x 7 1/2 in.
Category
Calculator/mechanical
Collection Title
Gwen Bell artifact and book collection
Series Title
Pre-computing artifacts