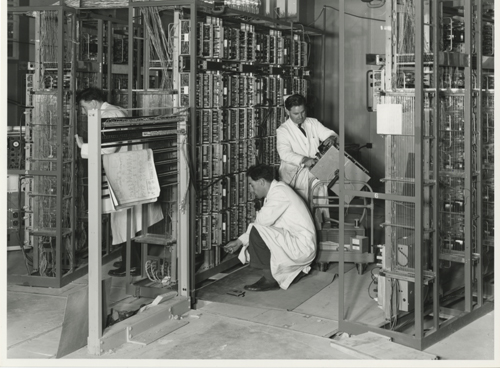 Date
1954 ca.
Identifying Numbers
| | |
| --- | --- |
| Other number | 275 |
| Other number | CS 10319 |
Dimensions
6 1/4 x 8 1/4 in.
Format
Photographic print
Description
B&W, Three men in lab coats working on three vertical arrays with aisles between them. One man standing and peering into array at far left, one man kneeling center with tool in hand working on an array, one man standing, and picking up a piece of equipment off of a lab cart. Raised floor environment. Verso : printed paper sheet adhesively attached in center top " - 3 - CS 10319 Closeup of the (full scale) ACE during development. each cabinet held 24 chassis and each chassis about 30 values (sic- should be valves) (tubes). The rack projecting forward was a temporary feature for testing. Cooling was by forced air blown up from a duct in the floor. It recirculated in each cabinet, cooled by water in a car radiator. Those in the picture were (left) Frank M Blake, (kneeling) Lewis J Page and (right) William L Gleed.."; black printed ink (dot matrix) label adhesively attached lower right "CS 10319, CROWN COPYRIGHT, CENTRAL PHOTOGRAPHIC SECTION, NATIONAL PHYSICAL LABORATORY, TEDDINGTON MIDDX."; "275" sideways in black pencil on center right edge.
Category
Identification photograph; Publicity photograph
Subject
Electronic data processing--History; Computers--History; Computer industry--History
Credit
Courtesy of Gwen Bell