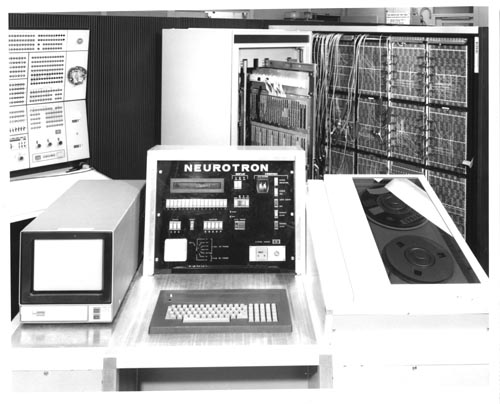 Title
Argonne National Laboratory NEUROTRON - Hardware
Publisher
Argonne National Laboratory
Identifying Numbers
Other number
120
Verso
Other number
66
Other number
ANL Negative No. 145-1481
Verso
Other number
TCM #464
Verso
Dimensions
overall: 8 x 10
Description
Argonne National Labs Hardware Folder 2. Contains 24 b&w images.

Black and white image of Laboratory with NEUROTRON device in foreground. It has a keyboard, display, magnetic tape deck and console .
In the left background is a mainframe with covers removed. The right background has console for the mainframe.
Verso black stamp says "ARGONNE NATIONAL LABORATORY PHOTOGRAPH, ANL NEGATIVE No. 145-1481, WHEN REORDERING PLEASE SPECIFY NEGATIVE NUMBER."
Category
Identification photograph
Credit
Courtesy of Gwen Bell