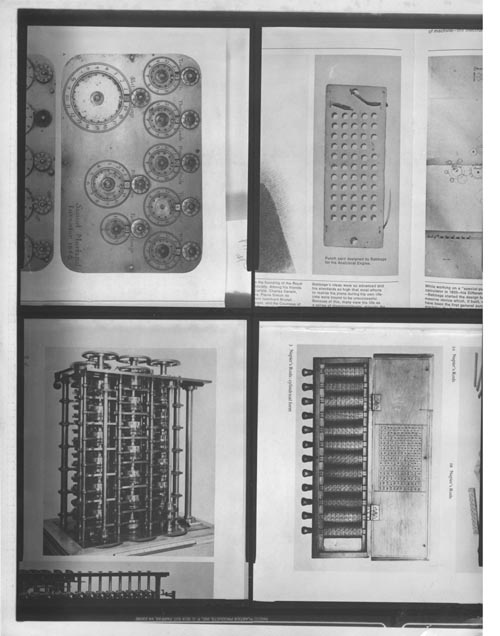 Title
Charles Babbage's Calculating Engine - Various Images
Description
Black and white images of 4 pages from a book. Lower left has a picture of part of the Babbage Engine ( no attribution), Lower right has picture
with of a series of cylinders with knobs for turning, enclosed in a box with a hinged lid. The box is open and there is a matrix printed on inside of lid.
"3 Napier's Rods: cylindrical form" also a partial view of "2A Napier's rods" and " 2B Napier's Rods". The top left has the picture of a device with 8 dials with secondary dials. The dials have numbers enscribed. Has "Samuel Morland Inventor 1660" on the device. Top right has picture of "Punch card designed by Babbage for his Analytical Engine". Each page has its own accession number attached but only one used for cataloguing.
Identifying Numbers
| | | |
| --- | --- | --- |
| Other number | #15-2 | Verso pencil |
| Other number | 8 | Verso ink on white paper sticker |
Dimensions
overall: 11 in x 8 1/2 in
Category
Photograph
Credit
Courtesy of Gwen Bell