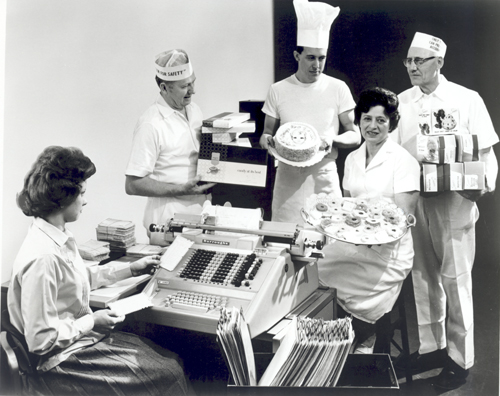 Title
Burroughs E1100 with Sanders bakers
Date
1965 ca.
Publisher
Burroughs Corporation
Dimensions
8 x 10 in.
Format
Photographic print
Description
Black and white image of Burroughs E1100 with Fred Sanders confectionery employees. Press release that accompanies image states "Electronics joins the sugar n' spice as a principle ingredient in the varied products of Fred Sanders, 90-year-old Detroit-based confectionery firm. To help keep track of a mountainous inventory of raw materials and supplies, Sanders has installed an E1100 Elcetronic Computing/Accounting Machine, marking the world's first sale of this machine just introduced by Burroughs Corporation. The compact electronic watchdog will monitor purchase and use of 5, 000 inventory items needed to operate Sanders 115 branch stores and to produce hundreds of diet-busting bakery and confectionery goods which annually include five and one-half million loaves of bread, two million cakes, five million pounds of chocolate candy, and ten and one-half million jelly beans.
From New Bureau, Burroughs Corporation, Detroit, Michigan 48232 Phone: 875-2260, Ext. 2234."

Category
Identification photograph; Publicity photograph
Subject
Burroughs E1100 (Computer)
Credit
Courtesy of Gwen Bell