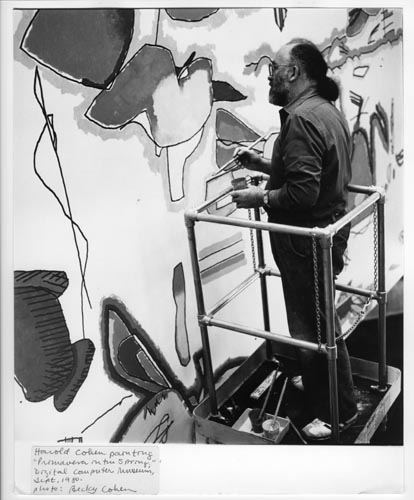 Title
Harold Cohen and his AARON wall mural
Date
1980 ca.
Photographer
Cohen, Becky
Publisher
Digital Computer Museum
Place of Publication
Marlboro, MA, US
Identifying Numbers
Other number
34-3
Other number
89
On verso paper sticker
Dimensions
overall: 8 in x 10 in
Description
Black and White image of Harold Cohen working on his AARON wall mural at the Museum. He is on a lift, holding a brush and paint cup.
On front of image a paper sticker with Harold Cohen painting "Primavera in the Spring" Digital Computer Museum, Sept, 1980. photo: Becky Cohen"
Category
Photograph
Credit
Courtesy of Gwen Bell