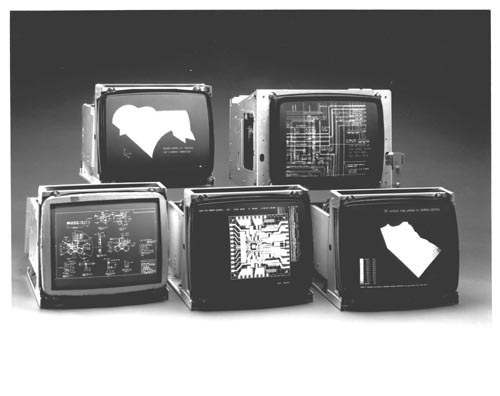 Title
Tektronix Computer Display Terminals
Date
1984 ca.
Publisher
Tektronix
Dimensions
overall: 8 in x 10 in
Description
Paper press release: "For Release: October 1, 1984 For more intormation contact: Julie Grecco (503) 685-3907 Arlene Wager Tiland (503) 685-3752 Tektronix, Inc. Information Display Group
Tektronix GMA raster display product family offers OEMs a wide range of resolution capabilities and easy integration. The 19-inch displays incorporate a number of advanced graphics features: 60 Hz non-interlaced refresh rate, digitally-controlled dynamic focusing, dynamic controlled convergence correction and contrast panels to optimize image quality. The display monitors also share a common mechanical packaging to simplify the OEMs integration task. The latest additions to the product family, the GMA 201, 302, and 303 are shown in the foreground. In the background, existing products, the GMA 301 and 304 are shown. ####"

The five displays each have a different drawing showing the versatility of the Tektronix line.
Category
Photograph
Credit
Courtesy of Gwen Bell